When you hire a ghostwriter for your book, you still have a role to play. Here's how to work with your ghostwriter.
Strictly speaking, ghostwriters are hired hands. They take no publishing credit for the book (or speech or screenplay), nor do they share in the profits. The writers are like ghosts. They are there, but not seen.
However, there are many variations of ghostwriting, and sometimes credit is given or profits shared. That remains your prerogative when negotiating with the writer. The ghostwriting contract will specify the terms.
There are many reasons for hiring a ghostwriter, but the two main ones are:
lack of time to complete the manuscript
lack of writing skill to see the vision through
For either of these reasons, or for several others, you might reach out for help. And we supply the ghostwriter.
You work with the ghostwriter
While ghostwriters do the writing, they are not alone. It's your vision, it's your manuscript and it's your responsibility to make sure the ghostwriter can deliver that vision. The writer is just the writer; you are still the author.
You might be unsure about your role as an author while working with a paid writer. So, let's look at each one's role. Keep in mind that each situation is unique, but most ghostwriting projects follow a similar pattern. And these tips apply, whether you are writing a novel or a work of non-fiction.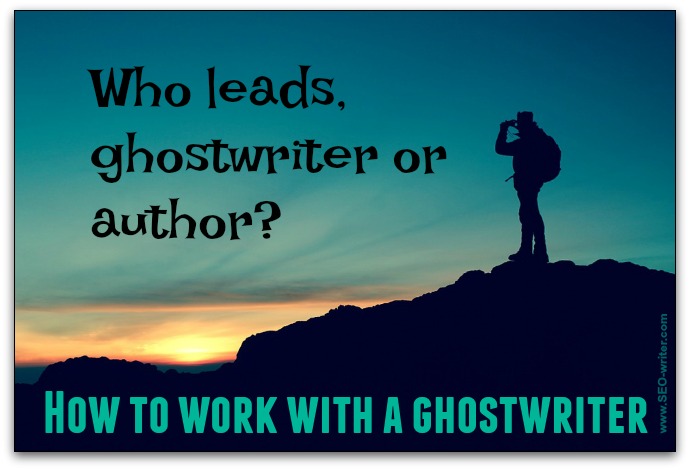 Who leads, ghostwriter or author?
You can choose whether the ghostwriter or you will lead the project. Or you can share the decision-making process.
Some authors have a clear idea of how they want their book to unfold.
Others are uncertain about many major aspects of the book. They might have ideas and characters, but not the plots or the lessons.
Sometimes it's a give-and-take process, with someone leading at first before tossing the reins to the other party. If you are unsure about how to proceed, a good ghostwriter will work with you to establish a comfortable working relationship.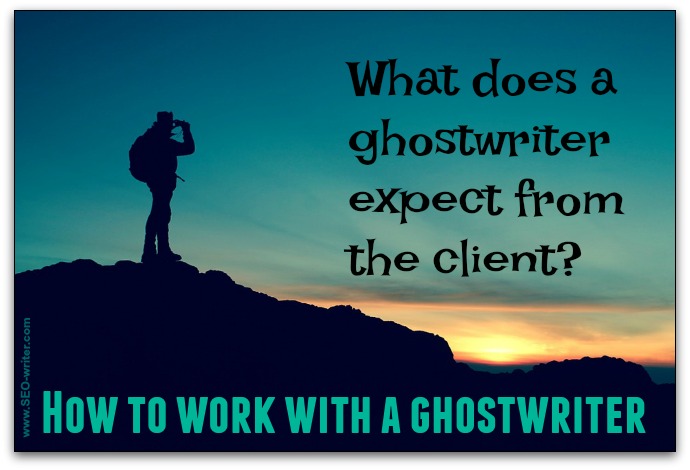 What does a ghostwriter expect from the client?
You should have a relatively clear notion of the type of book you wish to produce, the key points you want to get across, and whatever else is important to you to be included.
That is the one key point. Whatever is important to you must be communicated to the writer. The writer can make up pretty much anything, but it won't be what you envisage.
The writer might suggest that you create a tentative theme or story arc that can be developed for the book. This could be an outline, notes, bullet points or even a rough draft. Or you could organize information by timeline, by theme or by character.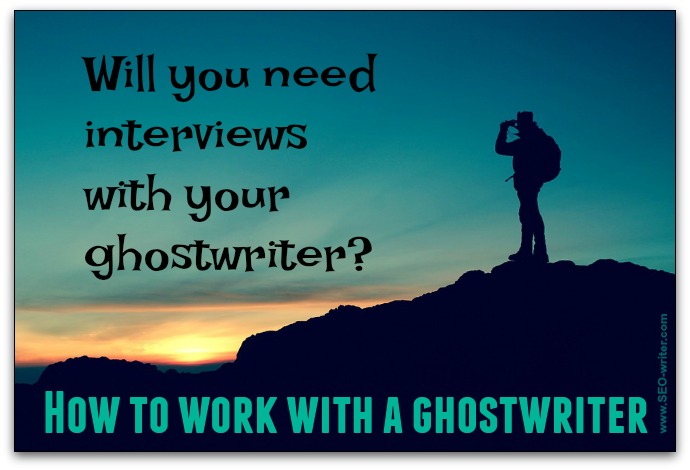 Will you need interviews with your ghostwriter?
If you are less organized, you might need to convey your information by phone, email exchange or chat/messaging. Just remember that if you need one-on-one time, that will cost more.
The same goes for research. You can outsource that also to your ghostwriter.
Interviews and research mean more work for the ghostwriter, so they will cost you more. However, they can often save you time and move the project along faster. So it depends on which is more valuable to you – time or money.
Find out in advance whether they are included in the cost of producing your book or if they are priced separately in addition to your book contract. In our contracts, we always specify if these items are added.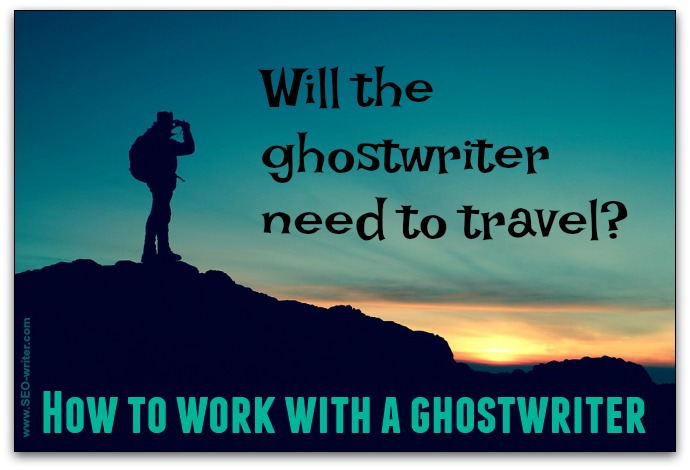 Will the writer need to travel?
If you require in-person interviews and the writer needs to travel, that also will cost more.
Most authors do not require this, but occasionally a client of ours really wants that kind of working relationship. Sometimes, the book-writing process is as important to the author as the quality of the finished manuscript.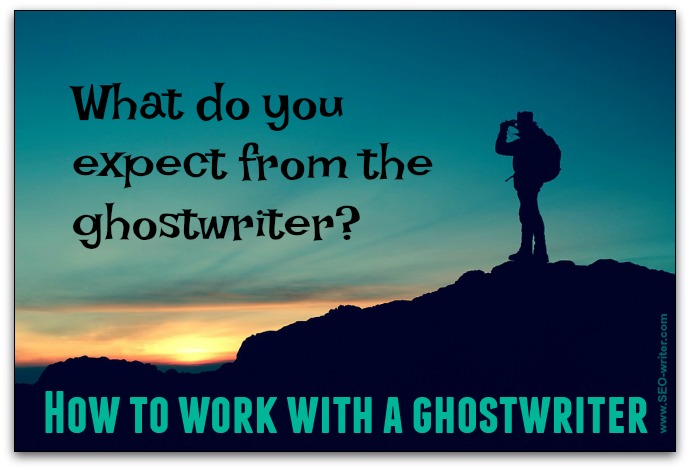 What do you expect from the ghostwriter?
Be clear in communicating frequency of contact, timelines and other expectations.
Set up communications arrangements early in the process, so that both of you know how to contact the other, and when. Some writers tend to be more communicative than others. You want progress reports often enough, but you don't want to be bombarded by them. Where that happy medium lies depends on you and your preferences.
And sometimes the communication schedule will change over the course of a project, as the author feels the writer has a solid grasp of what she wants and is working at a good flow.
If you really want a face-to-face meeting with the writer, this will need to be scheduled in advance to allow for flexible travel plans.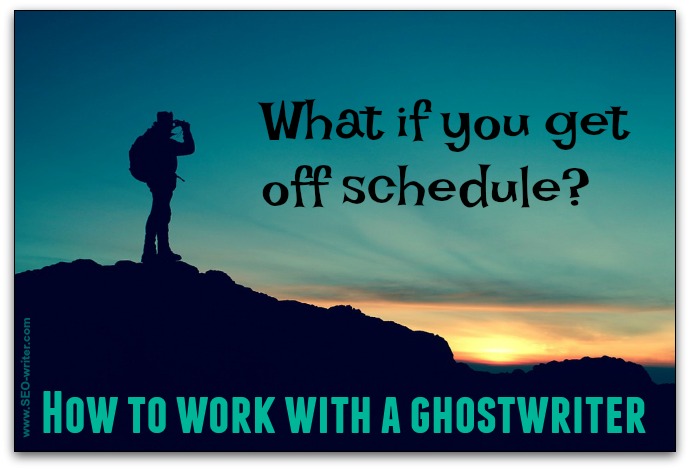 What if you get off schedule?
Schedule is more important to some authors than to others. Make sure there is a common understanding about timelines and flexibility. If, for instance, something hits you while reviewing the draft for chapter three, and you need to ruminate on some ideas for a few weeks, will your ghostwriter be flexible and wait for you?
The Happy Guy Marketing's writers give authors that flexibility because we understand just how important it is that your manuscript be the document you want…and that will always be a higher priority than deadlines.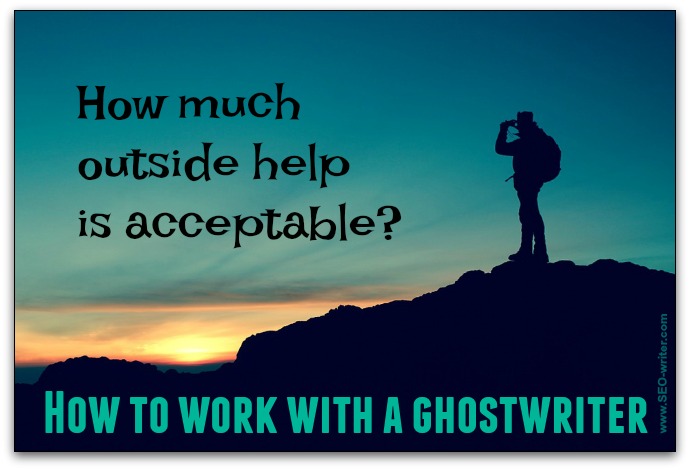 How much outside help is acceptable?
Does your ghostwriter have an associate or assistant writer? Aside from contractual terms, how much input should a third person have—and who will decide if such contributions are advisable or acceptable?
We've had clients who are pleased to be associated with us. Others fear that there will be a leak and that the world might learn that they are working with a ghostwriter.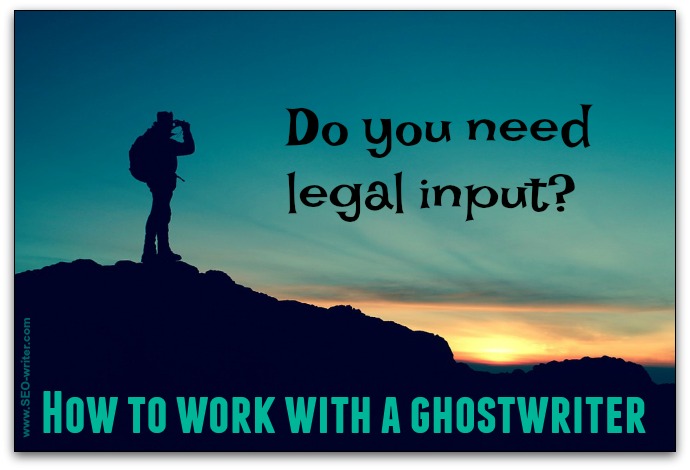 Will you need legal input?
Will you need an attorney to look over your contract or the finished manuscript?
This is a big issue for anyone writing a true story. Even a fiction based on a true story might require legal counsel to determine whether characters have been obscured enough to protect you from libel.
You might want legal input along the way, and that might affect how the story is written.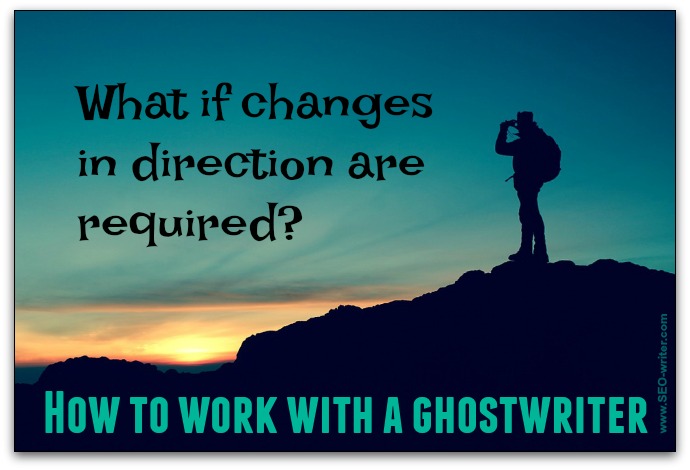 What if changes in direction are required?
Plan in advance for editorial changes that could come from either author or ghostwriter.
For example, what if the author wants to kill off a character, but the ghostwriter believes the character is integral to the plot? Can the ghostwriter quit if he doesn't agree with your assessment?
One of the benefits of working with an agency is that if for whatever reason the paths of writer and author diverge to the detriment of the finished manuscript, the writer can be replaced within the contract without causing too much disruption to the author's (your) project. There have been times when we have switched writers in order to meet client needs.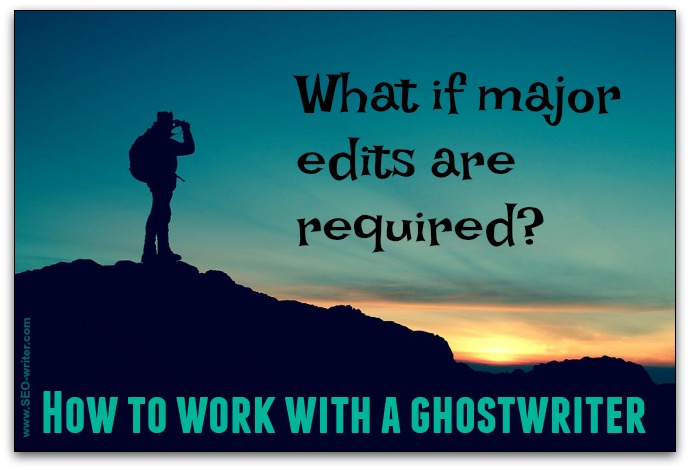 What if major edits are required?
Should an outside reader or editor be asked to review the manuscript before the book is considered final? And if so, how will recommended edits be handled—and priced?
We understand that there will be edits along the way. That's part of the writing process. However, if whole sections need to be rewritten because the author chooses a new direction, that would be a separate project with a separate fee. Sometimes it is worth it, but it is considerably more work for the writer, who cannot take that much extra work on without additional fees.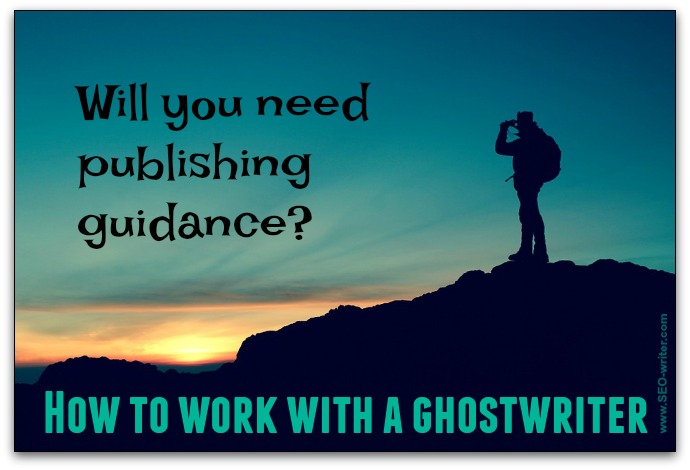 Will you need publishing guidance?
Ghostwriters often know the publishing industry better than most other people. They can provide tips, suggestions and directions for finding a suitable publisher for your work.
Many know something about self-publishing, publishing on demand and vanity publishing, as well as how to get an agent and write a query letter.
These services are usually sought beyond the scope of the contract, although they can be factored in as part of the author's agreement with the ghostwriter. In fact, when we write a full-length manuscript, we typically offer to write the query letter at no additional charge.
As you can see, writing a book involves business, as well as inspiration. For ghostwriters, writing is their business. It's their livelihood.
Everybody has a book inside them. Publishing your book is an exciting and reachable life goal. An experienced, professional ghostwriter can help bring that goal within easy reach. Understanding your relationship with the ghostwriter will help you make the most of it.