What sets The Happy Guy Marketing apart : Before writing, we take time to listen not just to your story, but to your voice.
Your story is very personal, whether it is your autobiography or the biography of someone you care deeply about. We understand this. We will help you release your story and bring it to life in your memoirs.
"Your story must captivate readers to have an impact."
What we do for your manuscript
We start by organizing your information. Most topics can be organized in several ways, so we will work with you on that. We will write the chapter titles first, then map out your information across the chapters. Sometimes chapter titles will change after the writing. That's OK.
There is more to a biography than just a chronology of events. For instance, we'll include:
how you felt
how other people reacted
what inspired you
your dreams
your challenges
your triumphs
whatever other elements you want to bring your biography alive
We have real experience writing memoirs and historical biographies. Here are a few samples of memoirs and biographies we have written for clients.
An all-inclusive biography of an African revolutionary who fought for his people, commissioned by his family.
A biography of a person with fairly unique psychological conditions. Her memoir launched a speaking career across the UK.
A memoir of someone who had done it all – drugs, violence, crime – recounting how he felt throughout his lowlife periods and how he overcame the odds and escaped his surroundings.
The biography of a family patriarch, so that his countless grandchildren would remember him and know the strength of their roots.
A survivor of severe sexual abuse as a child, recounts how it affected her and kept her from leading a productive and fulfilling life as an adult.
A Major League Baseball player.
A newcomer to Amercia writes his autobiography of how he came to America with only the shirt on his back, worked hard, invested wisely, took some risks, and made it reasonably big. The American Dream.
As you can see in this chart, biographies are a very popular genre these days: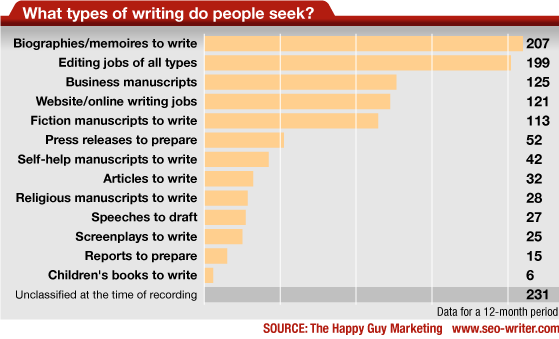 There are five parts to writing a manuscript:
Organizing your ideas. Our book writers can do this for you, but it is usually best for you to do it yourself – especially since you know your story best.
Choosing anecdotes, quotes, etc.
Research. Depending on your topic, there might be the need for research, although not so much with a personal memoir. This will vary from book to book and from author to author.
Writing. This is self-explanatory.
Editing – second draft. How extensive this phase is depends primarily on how much of the information you want included was given to the book writer as part of the first three points above.
Samples of books we have written or edited
Just a small sampling of those books we are at liberty to reveal…


ASIM: Servant of Two Masters, by D.W. Smith
HISTORICAL FICTION: In 1453 Turkey, Mehmed the Conqueror has just defeated the Byzantine Empire and a new era called the Ottoman Empire is ushered in.
Breast Cancer; The Sun Will Rise, by Pamela S. Barron
SELF HELP: Breast cancer survivor Pamela Barron describes life with metastatic breast cancer and continuous chemo treatment for seven years .
War of the Staffs, by Kathryn Tedrick and H.P. Stephenson
FANTASY: A fresh new series for all those who love dragons, wizards, elves, dwarves, and mayhem.
Amazing Adventures of a Nobody, by Leon Logothetis
MEMOIR: A personal tale of travel and adventure in the real world.
Sit Crooked and Speak Straight, by Stephane J. McGrane
BUSINESS: A primer for anyone wanting to conduct buisiness susccessfully in the Arabian Penninsula.
The High-tech Gooseneck Putter, by Samuel DiMatteo & Kristin Johnson
CHILDREN: Meet Sami DeMani, a Canada gander with a legendary golf game. He's on track to win the prestigious Waterfowl Tour — and put his nemesis, the ruthless Pete Swan Lake, in his place once and for all.
The Biracial Bondage, by Joe Bama
SOCIETY: Exploring the struggle of biracial people and couples, as seen through the eyes of both white and black people.
Eradonis: Legend of the Black Rose, by Narisha Rajnandan
FANTASY: First in a series of books featuring sorcery and magic spells.
My Life With an Unsung Hero, by Vesta Sithole
BIOGRAPHY: The post-humus biography of the Reverend Ndabaningi Sithole, a hero of the Zimbabwean struggle for independence.
The Genesis One Code, by Daniel Friedmann
SCIENCE, RELIGION: Calculations demonstrate a clear alignment between the times of key events described in the creation narrative in the Book of Genesis with those derived from scientific theory and observation.
Time Craft, by Mark A. Ely
SCIENCE FICTION: A time-travel story of adventure and scientific imagination.
He will guide you, by Dr. John Diomede
RELIGION: A guide for Christians to your relationship with the Holy Spirit.
Flying Cowboys and Confetti Rain: Dreams of a PBR Bull, by Debbie Felkins Tamez
CHILDREN: An endearing story of a bull and a racoon and their adventures on the road to fame.
Let us take your topic from idea to published book with words that captivate your readers.
Praise for our biography writers
Ladies and gentlemen, a few words from people who have been most pleased with the legacies that our biography writers have created for them. (Read more testimonials here.)

Marty – memoir writer


I opened your edited file today. Although I have not had the strength to make the changes, they are PERFECT. You have done exactly what I had hoped you would do – you made my story better. I am eager to incorporate your suggestions and send it to my publisher. Thanks so much!


Lena – autobiography client


Thank you so much; you are amazing…I have read some of the later chapters and am amazed. It's great. That will give them something to talk about. There is a lot from to study there and I must get the facts right before I claim it as my book. But over the few weeks, I shall do so. It's very late now and I can't read anymore as I am tired and overwhelmed. You are great. Thanks again. Will be in touch once I have read the whole thing again and probably with some changes. Those last few chapters are red hot.

Want to hire a freelance memoir writer?
If you are looking for a freelance writer or editor for your biography or autobiography, contact The Happy Guy Marketing for a free quote. The more details you provide, the better we can serve you. To hire a memoir or biography writer, use this form.