The best content pleases readers and search engines. Here are five creative ways to hit both targets at once.
Content creation is a creative process. Few writers think about search engine optimization (SEO) when creating content.
Yet, the hard truth is that without ranking, your content will hardly be seen by anyone. So, so SEO is the necessary evil writers need to implement.
The good news is that content SEO is totally doable. Yes, even for you. In some cases, it will even help your you create better content more easily by giving you access to related keywords and questions people are asking on your topic.
Here are five SEO content tricks that can boost your content's performance. Chances are you are not using these them yet.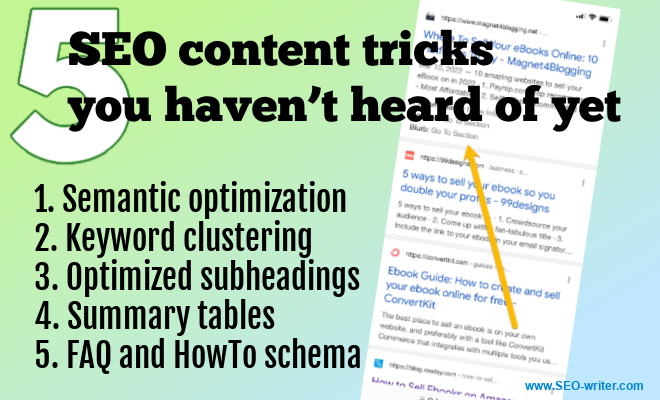 1. Semantic optimization
Semantic analysis helps Google understand search intent and context behind the query. To be sure, it's not Google's only tool for interpreting searches. Google's algorithm also uses artificial intelligence to self-learn on how people search.
Yet, semantics has long been an key part of how Google understands search patterns and behaviors. So, applying semantic optimization to your content is a great way to give Google what its algorithm wants. Which is, by the way, what its users expect when they search.
So what exactly is semantic optimization?
In essence, it is optimizing content for Google's ever-developing understanding of the world. This is also referred to as Google's Knowledge Graph, For example, if you type [ice fire winterfell] in Google, it will immediately know what you are referring to. The results you get are based on its Knowledge Graph. Spoiler – it's a Game of Thrones reference.
Logically, if you write about the show, Google would expect those terms to be mentioned.
Text Optimizer is a semantic optimization tool that does exactly that. It finds entities and concepts that Google and its users expect to be included in the content on a particular topic.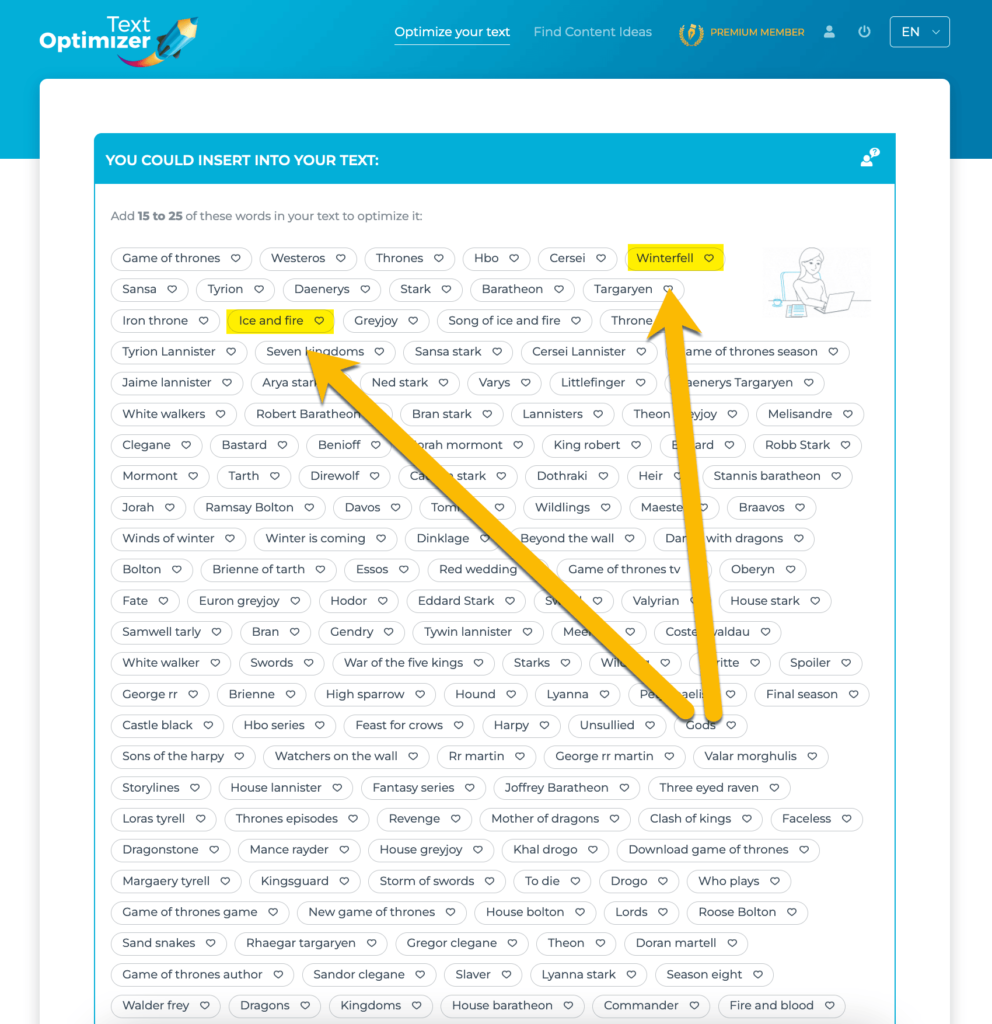 In a nutshell, it will tell you what you've missed.
You don't need to use all of the terms suggested by Text Optimizer. Based on your editorial ideas and context, select about 20 concepts to use. This process will also help you come up with new ideas for related content. Before you know it, you'll be writing even more content.
2. Keyword clustering
Keyword clustering is another keyword optimization tactic few writers use.
Many writers know what keyword they are targeting when creating content. But it seldom occurs to them that they could target a group of keywords instead.
Keyword clustering is a way to group a list of keywords by a common modifier or search intent.
This tactic helps you to:
Discover more keywords with lower search volume that can drive long-tail traffic
Find additional keywords that can be targeted through subheadings/li>
SE Ranking has a cool keyword clustering feature to help you with the task.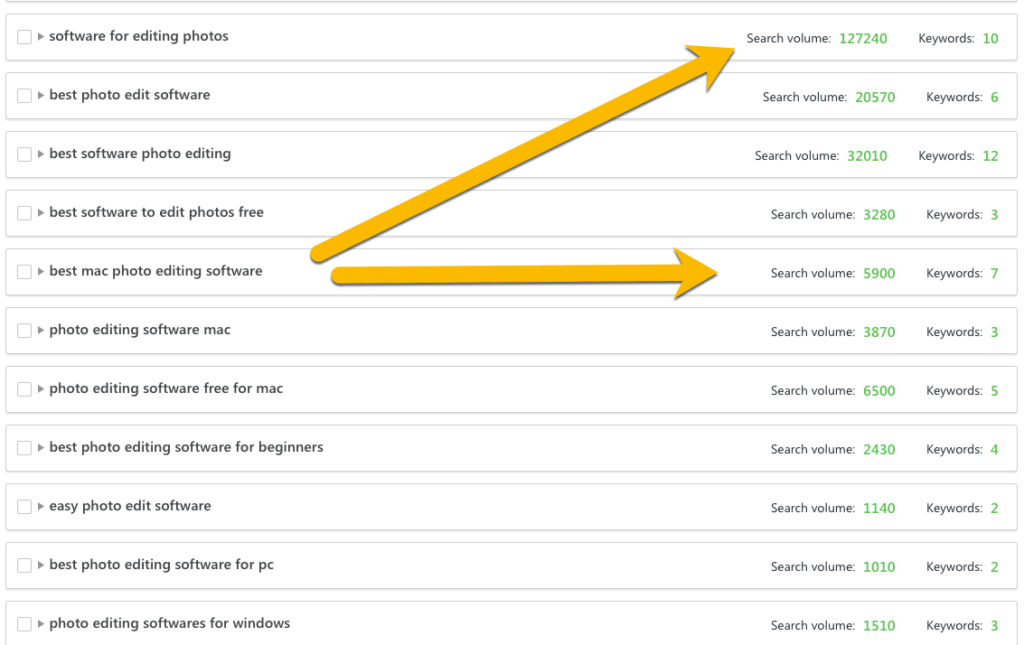 Just run your whole keyword list through the tool and it will conveniently group your search terms for you. You can then optimize each of your articles for a group instead of a single keyword. To be clear, this is a natural grouping. Each group is made of search terms that naturally fit well together.
Keyword clustering is useful for creating brand-driven pages, such as FAQ pages. Use your business name as a keyword, run it through a keyword research tool, export the list and run it through SE Ranking. The resulting clusters are the FAQ page sections you need to cover for your customers to find all the answers on your site.
3. Optimized subheadings
All writers know that using subheadings to break content into sections is key to readability.
Yet, not many writers realize the SEO power of the tactic. Subheadings are an important search engine optimization element on your page. They help Google to locate the best answer to a search query.
Using keywords in subheadings helps Google feature your content more and show it in "People Also Ask" boxes.
Here are a few good ideas to optimize your subheadings:
Include your secondary and related keywords in the subheadings. Don't stuff them all into one subheading, though. One keyword per subheading is enough.
Word your subheadings as questions. You can find related questions using People Also Ask boxes, Answer the Public and Text Optimizer, as well. You could also survey your readers to know which questions they are asking. Conversational forms are good for that.
Make subheadings meaningful and interesting. Good content structure makes sense even when all other content is removed.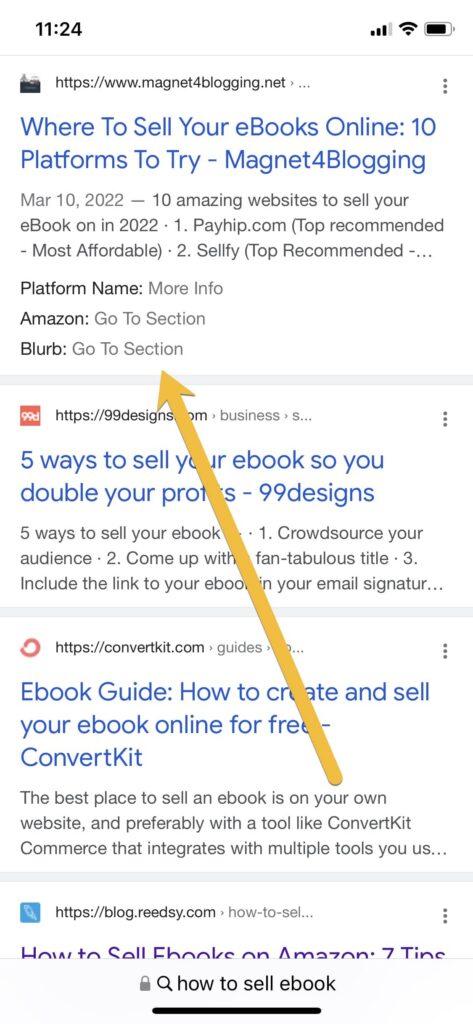 4. Summary tables
Concise summaries and takeaways are important, especially if your target audience is young enough to be used to consuming lots of information in little time.
Those summaries can be an SEO element, too. They could make your search snippet stand out if you create comparison and summary tables.
Google uses tables to generate so-called structured snippets which look nice and attract more clicks.
Structured snippets stand out in searches and require no coding. All you need to do is to create an HTML table. There's a built-in block for that in WordPress.
Tables also make summaries extremely easy to read, so your readers will likely appreciate that format. Here are just a few ways to use tables:
Provide an overview of listed tools or solutions.
Compare pricing or features.
List takeaways and provide time required for each step.
Compare pros and cons of different choices.
5. FAQ and HowTo schema
There are two types of schema types that are content-friendly. That is to say, you don't need coding help to implement them. Both can get more clicks to your content from organic search results.
These are FAQ Schema and HowTo Schema.
FAQ schema is extremely popular with content creators because just about any article can include an FAQ section.
There are lots of plugins that let you generate FAQ schema and easily implement it in your content strategy. This way your search snippet will stand out and attract more clicks.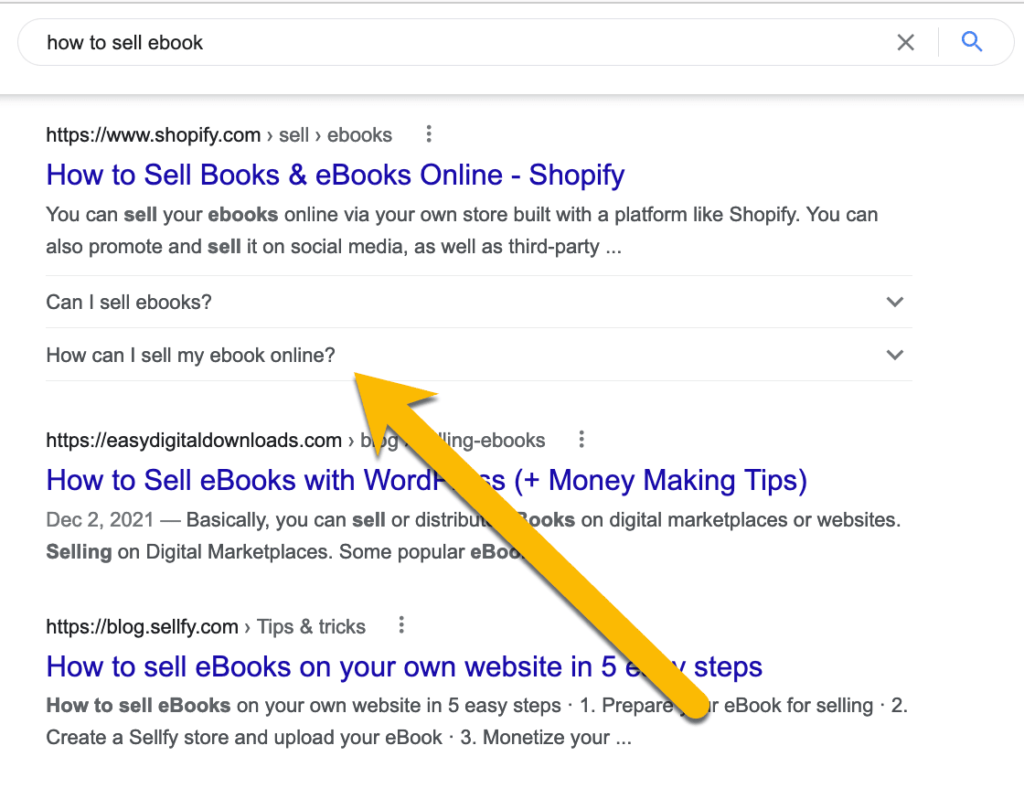 Yet, there's one piece most content creators are missing: If you include internal links in your answers, these will be populated in search results. You get an extra clickable link within your existing search snippet!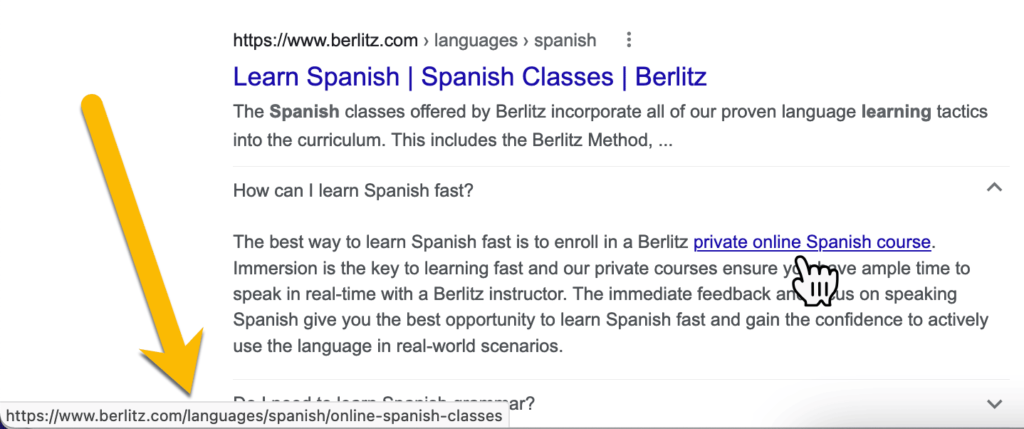 HowTo schema is less popular than FAQ schema because it was introduced for the do-it-yourself niche. Yet, it looks like content from any niche can use this schema. That means you could enjoy huge and interactive search snippets that are almost impossible to scroll past without clicking.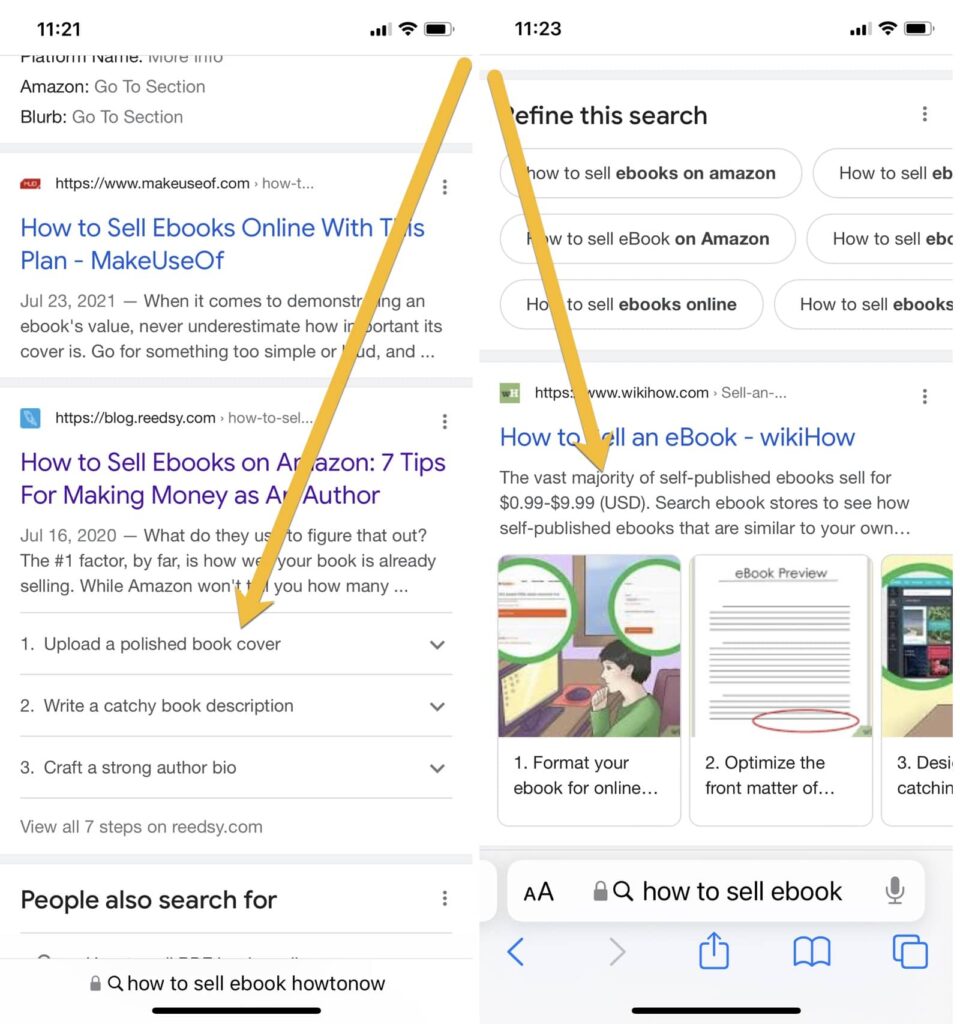 HowTo schema can include images for every step, so your carousel will also be extremely visual. Yoast and most alternatives have HowTo schema support built in, so feel free to give it a try.
Conclusion
SEO is not rocket science, unless you venture into its technical depths. The SEO content tricks mentioned here are easy for you to apply. They require no coding skills. Yet, each one has the power to grant you more search visibility at no added cost.
You make good content. Now it's time to tell the world.