From the obvious to the "Hey-I-never-thought-of-that-great-idea-before", here are 11 of the top tips to optimize your website for its turbo-charge rocket ride up the rankings…updated!
There must be 1001 ways to optimize your website for higher rankings, then more after a well-deserved nap. Here are 11 of the top SEO tips that still work well in 2021 – some things never change.
To be sure, there are also vital newer steps to take, such as being mobile-friendly, tweaking for voice search and using a secure server. But these 11 tips haven't changed all that much over the years. These are the timeless classics. Search engines change their algorithms, but fundamental SEO doesn't change all that much.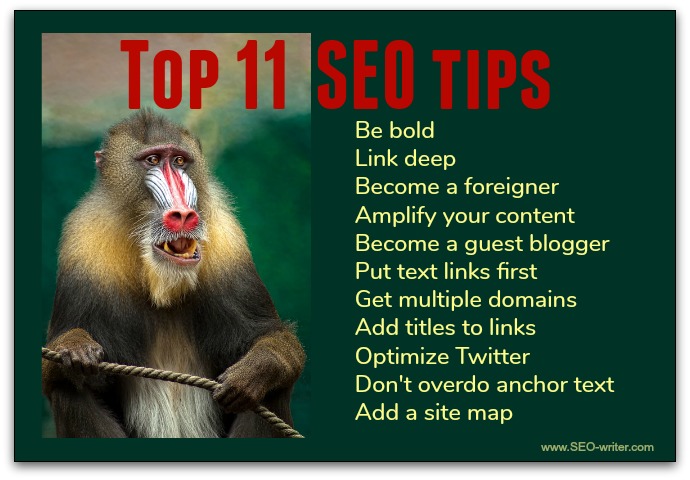 Be bold. Use the bold tags around some of your keywords on each page. Do NOT use them everywhere the keyword appears. Once or twice is plenty. This just says to the search engines, "Hey. These words are important for what the page is about."
Link deep. Make sure you have links coming in to as many pages as possible. What does it tell a search engine when other websites are linking to different pages on your site? That you obviously have lots of worthwhile content!
What does it tell a search engine if all your links are coming in to the home page? That you have a shallow site of little value, or that your links were generated by automation rather than by the value of your pages.
Become a foreigner. Canada and the UK have many directories for websites of companies based in those countries. In smaller countries, it's easier to localize. Can you get a business address in one of those countries? If you open up new markets, the search engines will also help announce you to those markets.
You'll be able to generate interest in other countries with a website specific for those audiences. That will help both to attract visitors and to engage with them.
Amplify your content. The more eyes you reach, the more your content will be read and shared. Platforms like Triberr and ViralContentBee can really help.
Become a guest blogger. This remains one of the most powerful SEO strategies, because it works on so many levels.
The most obvious benefit is that the link in the guest post helps boost your rankings.
But you are also driving traffic to you website, which means your content has an even better chance of attracting more links.
Plus, you interact with readers of the host blog, thereby gaining more clients, social media followers and ideas for great content on your own blog.
Put text links first. If you must have image links on your website, include also text links. However, make sure the text links show up first in the source code, because search engine robots will follow the first link they find to any particular page. They won't necessarily follow additional links to the same page.
Get multiple domains. If you have several topics that could each support their own website, it might be worth having multiple domains. Why?
First, search engines usually list only one or two pages per domain for any given search, and you might warrant two.
Second, directories usually accept only home pages, so you can get more directory listings this way. Why not a site dedicated to gumbo pudding pops?
But most of all, the search engines can more clearly define the topic of your website, and give you more prominence for each topic.
Add titles to links. Links can get titles, too. Not only does this help visually impaired surfers know where you are sending them, but search engines might figure this into their relevancy for a page.
Optimize Twitter for higher rankings. I write about how Twitter helps your SEO.
Don't overdo anchor text. You don't want all your inbound links looking the same, because that looks like automation – something Google obviously frowns upon. Use your URL sometimes, your company name other times, "Gumbo Pudding Pop" occasionally, "Get gumbo pudding pops" as well, "Gumbo-flavored pudding pops" some other times, etc.
Add a site map. A big site needs a site map, which should be linked to from every page on the site. This will help the search engine robots find every page with just two clicks.
A small site needs a site map, too. It's called the navigation bar. If your site has only a couple levels of navigation, an XML sitemap is most likely a waste of time.
These 11 SEO tips should keep you busy for a while. Your site will rank better once you've applied them. Keep in mind that there is soooo much you can do for SEO. But these are simple things that don't change much over time.