For some reason, work-from-home hermits, freelancers and digital nomads have a "thing" for working in their pajamas. Here are our top tips to rock those PJs.
I recently reported how writers, stay-at-home parents and online marketing geeks had chosen careers as professional hermits.
Thousands of work-from-home hermits responded, confessing that they were wearing their pajamas while reading my column. Fortunately very few sent me photos. Instead, they sent me questions. Here are some of the questions they asked:
NOTICE This article is republished "many years later" after being deleted from the archives on another website.
Q: Is it acceptable to wear pajamas at high noon if Nobody sees me, or am I committing a fashion faux-pas.
A: It is totally acceptable to wear pajamas at high noon. You can even wear them at low noon. In fact, you can wear them all day long. The only exception is in England, where you must not wear pajamas at tea time. Pajamas and tea don't mix. The combination can be lethal. (See the November 2002 report: "Spontaneous combustion among British work-at-home hermits.")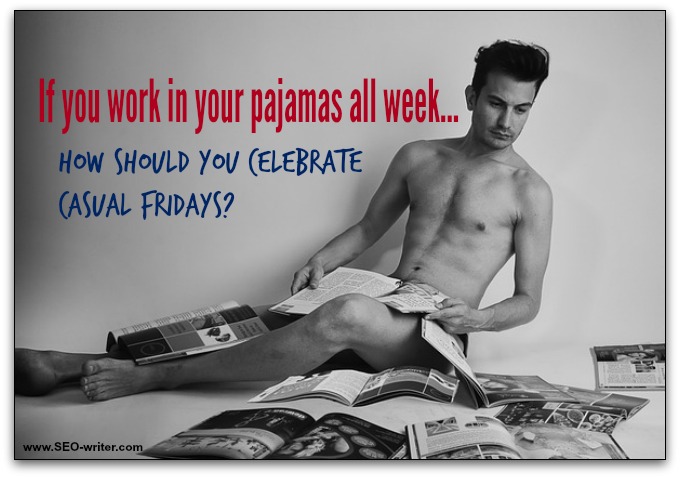 Casual Fridays in the home office
Q: How should I handle "casual Fridays" in my workplace?
A: I have replaced casual Fridays with "formal Thursdays". Every Thursday, I take my daughter to the play center, forcing me to shower, shave and don formal wear. Don't go overboard, though. My three-piece suit includes jeans, t-shirt and something that I think used to be sneakers.
Q: But what if I never go out?
A: Then stick to casual Fridays. Why not make Friday the day you wash your pajamas? All Nobody will see is the back of your chair, anyway.
Q: What if FedEx Guy comes to the door?
A: Tell FedEx Guy it's casual Friday, and ask him if he really wants to see how a work-from-home hermit celebrates casual Fridays.
Accessories in the home office
Q: If I work from home, do I still need a purse?
A: Of course. Without a purse, what would you carry to the bathroom? Make sure your purse matches your pajamas, though. You would not want Nobody to catch you with a poorly coordinated wardrobe. Personally, I don't have a purse, but that's just a guy thing.
Q: If you don't bring a purse, what do you bring?
A: A chain saw. Tim Allen would be proud.
Q: What about taking out the garbage?
A: When the odor starts to repel the postman, you might need to take out the garbage (just in case there is a rare check in the mail). Wear your pajamas to the curb, but I suggest replacing your slippers with shoes. Snowshoes are recommended in Edmonton…except in July and August. Caution: do not walk to the curb if you live on a houseboat.
Q: I feel so alone. Is that normal?
A: Get over it. You are part of a glorious economic movement, where people around the world choose to reject antiquated social norms and barricade themselves in their homes to make $53,976 in the first week of their new businesses. How could you feel lonely with so much money?
Q: Wow. I made only $3 in my first week. I bet my husband $3 that I could stay in my home office for three straight days without coming out. I won the bet, but I was forced to shower after three days.
A: That's not a question.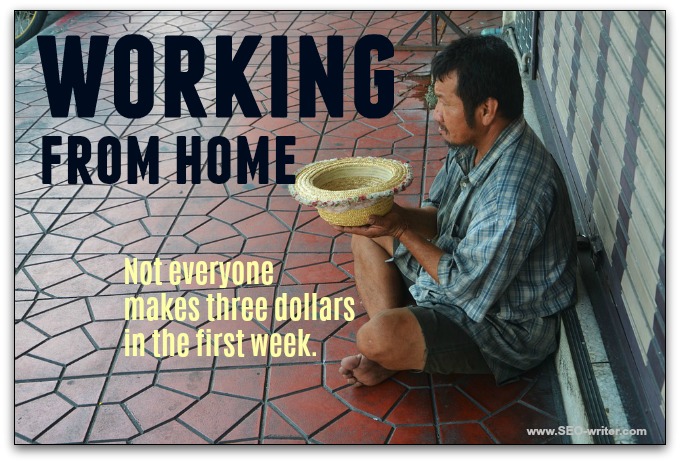 Budgeting for fashion in the home office
Q: OK, what if I make only $3 a week?
A: You might have to share your pajamas with Nobody…until you can afford a second pair, of course.
Q: Is this really a growing trend?
A: Yes. The International Institute of Social Isolation reports that by 2055, 95% of people will be operating a home based business. The National Organization for Studying You (NOSY) reports that by 2055, 95% of people will be sharing their pajamas with Nobody…until they can afford a second pair, of course.
Q: Wow. That's a lot of pajamas. What does this mean for the future?
A: It means that Nobody will have a wide selection of pajama styles from which to choose.
Q: I mean, what do all these pajamas mean for the future?
A: It means the pajama industry will become a major economic force. Buy PJ stocks now!
Q: Do you know any good pajama-based mutual funds I could invest in to take advantage of this trend?
A: No, but how rich can you get investing $3 a week, anyway?
That's it, everything you wanted to know about fashion etiquette for the work-from-home hermit, plus the most useful investing advice for freelancers making their first $3. One more thing: if you provide feedback to this article on a casual Friday, please turn off your web cam.
NEXT: This feature continues with home office policies.