What sets our professional book writers apart: Our wide writing experience means that we can make your topic real for your readers.
Sometimes the book is in you, but you need somebody to bring it out. No problem, we can do it for you. We can put your thoughts, ideas and knowledge into a book of just about any length, written in just about any style on most topics. Or maybe the book has come out, but just needs some polishing. Our manuscript editors can help.
"Your book must captivate readers to have an impact."
What we do for your manuscript
We start by organizing your information. Most topics can be organized in several ways, so we will work with you on that. We will write the chapter titles first, then map out your information across the chapters. Sometimes chapter titles will change after the writing. That's OK.
There is more to writing a book than just one flowing text. For instance, if you wish, we'll prepare your:
call-out boxes
case studies
subtitles or section titles
illustration captions
games or quizzes
whatever other elements you want to bring your topic alive
What writing requests we get the most
Here is what people are looking for when they ask us to help them put their thoughts down in words: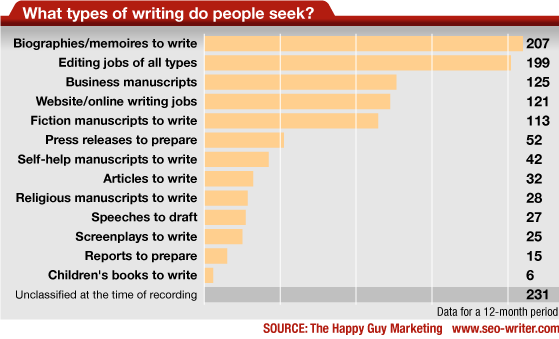 These are some of our recent book writing projects. We don't use real names for ghost writing to protect client confidentiality – many of our clients are sensitive about identifying the use of ghost writers for their books:
S. has written the novel of his life, an epic that draws on his observations. He wants it to entertain, educate and philosophize all at once. At well over 100,000 words, it is indeed a work of epic proportions that has evolved even as it was being written. Dedication and quality writing have helped us deliver his "baby".
J. wants to write a fantasy novel. He has all the ideas for characters and much of the plot, and he is sure he has a best seller on his hands. But he needs help to bring some elements of the plot together, and he needs a top-notch writer to make it sound like a best-seller. One of our freelance ghost writers, who has published her own works and studied fantasy novels, has taken on this project.
W. already wrote his Christian novel, and he's been editing for two years. It's time to get a third party to look it over. This is actually a small project, so we'll have W. ready to publish in no time.
R. sells his services to financial advisors. In order to open the door to sell his marketing program to insurance agents and financial advisors, he wants a book that builds his reputation and pre-sells his ideas. That's easy; his ideas and our ghost writer service will give him exactly what he is looking for.
R. sees too much going on wrong about him and he believes the world needs a shot of justice. He wants to write a Christian-based book to deliver a wake-up call to action. He really does not know where to begin. One of our ghost writers, who has written on Christian themes and delivered related speeches is helping him organize his thoughts and write the book.
B. wants a book to sell at speaking engagements and through other venues. He has honed his message and he knows he has a receptive audience, but writing is not his strong point. No problem, we have an energetic writer who knows how to convey his sense of excitement and motivation working on his book right now.
We have real experience writing books and ebooks, as well as humor articles, how-to topics, motivational, informational and opinion subjects, and much more.
If your topic is highly technical and aimed at a highly sophisticated audience in a scientific, financial or medical area, you might be best seeking out a genre expert. Any other topic, especially a technical topic aimed at a general audience, can best be served by generalists with strong writing skills (such as us!).
Samples of books we have written or edited
Just a small sampling of those books we are at liberty to reveal…


ASIM: Servant of Two Masters, by D.W. Smith
HISTORICAL FICTION: In 1453 Turkey, Mehmed the Conqueror has just defeated the Byzantine Empire and a new era called the Ottoman Empire is ushered in.
Breast Cancer; The Sun Will Rise, by Pamela S. Barron
SELF HELP: Breast cancer survivor Pamela Barron describes life with metastatic breast cancer and continuous chemo treatment for seven years .
War of the Staffs, by Kathryn Tedrick and H.P. Stephenson
FANTASY: A fresh new series for all those who love dragons, wizards, elves, dwarves, and mayhem.
Amazing Adventures of a Nobody, by Leon Logothetis
MEMOIR: A personal tale of travel and adventure in the real world.
Sit Crooked and Speak Straight, by Stephane J. McGrane
BUSINESS: A primer for anyone wanting to conduct buisiness susccessfully in the Arabian Penninsula.
The High-tech Gooseneck Putter, by Samuel DiMatteo & Kristin Johnson
CHILDREN: Meet Sami DeMani, a Canada gander with a legendary golf game. He's on track to win the prestigious Waterfowl Tour — and put his nemesis, the ruthless Pete Swan Lake, in his place once and for all.
The Biracial Bondage, by Joe Bama
SOCIETY: Exploring the struggle of biracial people and couples, as seen through the eyes of both white and black people.
Eradonis: Legend of the Black Rose, by Narisha Rajnandan
FANTASY: First in a series of books featuring sorcery and magic spells.
My Life With an Unsung Hero, by Vesta Sithole
BIOGRAPHY: The post-humus biography of the Reverend Ndabaningi Sithole, a hero of the Zimbabwean struggle for independence.
The Genesis One Code, by Daniel Friedmann
SCIENCE, RELIGION: Calculations demonstrate a clear alignment between the times of key events described in the creation narrative in the Book of Genesis with those derived from scientific theory and observation.
Time Craft, by Mark A. Ely
SCIENCE FICTION: A time-travel story of adventure and scientific imagination.
He will guide you, by Dr. John Diomede
RELIGION: A guide for Christians to your relationship with the Holy Spirit.
Flying Cowboys and Confetti Rain: Dreams of a PBR Bull, by Debbie Felkins Tamez
CHILDREN: An endearing story of a bull and a racoon and their adventures on the road to fame.
The five steps to write a book:
Organize your thoughts. We can do this for you if you wish, but it is usually best for you to do it yourself.
Choose quotes, anecdotes, illustrations, historical examples, diagrams, etc. Although we can help, this is often something you will want to do yourself.
Research. Depending on your topic, there might be the need for substantial additional research. This will vary from book to book and from author to author.
Write. This is self-explanatory.
Edit – second draft. How extensive an edit you require will depend primarily on how much of the information you want included was given to the ghost writer as part of the first three points above.
Praise for our book writers
We don't claim to have the best book writers – we let our satisfied clients tell you instead. (Read more testimonials here.)
Samuel DiMatteo – children's book author
The book, 'The High-Tech Gooseneck Putter,' is at the publishers. Outskirts Press reviewer wrote that the story was unique and well crafted. He continued, 'A Fun Read.' I can't write enough praises for Kristin Johnson, her being and writing skills. I would make a suggestion and she would put it into words, what I in visioned. Thank you, for your help in making my dream come true. I'm sure that I will be using your services in the future.
Maya – novelist
Oh wow, I am crying. It is beautiful. And I am not just saying that because it is my book and all. It flows smoothly. I am pleased. I am confident I will land a contract with that. Now I feel confident. I didn't feel that confidence before with my manuscript. Being a writer, I know that my manuscript didn't have the smoothness I was aiming for. Thanks so much.
Lena – autobiography client
Thank you so much; you are amazing…I have read some of the later chapters and am amazed. It's great. That will give them something to talk about. There is a lot from to study there and I must get the facts right before I claim it as my book. But over the few weeks, I shall do so. It's very late now and I cant read anymore as I am tired and overwhelmed. You are great. Thanks again. Will be in touch once I have read the whole thing again and probably with some changes. Those last few chapters are red hot.
John – satisfied author in Switzerland
Thank you so much for this fantastic work. I'm extremely impressed , not only by the top-notch quality of the writing and managing to adapt to the "voice" of the other stories but also your ability to have completed this project in such short time. I love the way you've managed to amend and convert these stories to such fascinating and page-turner book. Thanks also for the outstanding query letter and synopsis.
Denise Reccia – self-help author
I am very very happy with the outcome! Debra was fabulous to work with and an amazing person! I highly recommend her for future projects. She will definitely be my choice again.
Let our book ghostwriters take your topic from idea to published book with words that captivate your readers.
Want to hire a freelance book writer?
If you are looking for a freelance writer or editor for your book or novel, report, contact The Happy Guy Marketing for a free quote. The more details you provide, the better we can produce your vision. Fill in the form for a free quote now.