What sets our team of freelance writers apart:
We write words AND think visually to make your web copy, report or book sizzle.
We don't just write web copy. Our writers specialize also in press releases. We also write sales letters, newsletters, autobiographies and memoires, travel articles and financial articles, reports, novels, health stories, self-help books, business books, white papers and academic reports, spiritual books and more.
What our team of writers can do for you
Many writers bring forth one or two writing skill sets. Our freelance writers bring forth a very wide range. We deliver almost any type of project, and we do it to a very high quality:
Sales letters.
Official reports and white papers.
Marketing materials.
Book manuscripts and novels.
Self-help and motivation.
How-to explanations.
Speeches.
Editing and proofreading.
Blog posts and Internet articles.
Feature journalism.
Editorial copy.
Academic articles and books.
Screenplays and movie scripts.
Interviews.
Biography and autobiography.
Humor.
Poetry.
Business and finance writing.
Songs.
Technical writing.
News releases and public relations materials.
What writing requests we get the most
Here is what people are looking for when they ask us to help them put their thoughts down in words: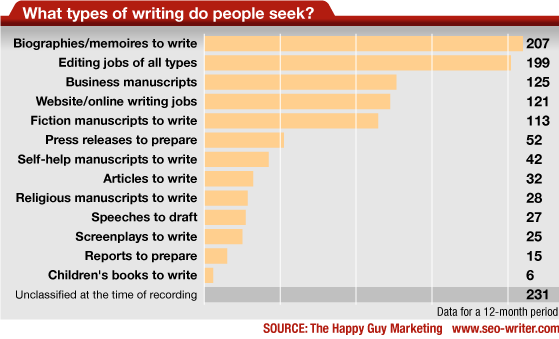 Hire a freelance web copy writer or editor
People come to us to write their website copy, because they know we deliver quality:
Words that engage the reader.
Words that boost your search engine rankings.
Words that lead customers toward the sale.
Words that massage the short attention spans of internet surfers.
Words AND layout to hold the reader's interest.
On the Internet, it is not just about the words. Visuals, fonts, linking and much more go into effective copy that leads visitors to take action (buy, give an email address, ask for a quote, etc.). Most freelance writers, even website copy writers, still write just words.
Hire a freelance book ghostwriter or editor
People come to us to write their book manuscripts, because they know we write their words in their voice:
Words that inspire the reader.
Words that sound like the author himself or herself.
Words that impress book reviewers.
Words that deliver the intended message.
Samples of books we have written or edited
Just a small sampling of those books we are at liberty to reveal…


ASIM: Servant of Two Masters, by D.W. Smith
HISTORICAL FICTION: In 1453 Turkey, Mehmed the Conqueror has just defeated the Byzantine Empire and a new era called the Ottoman Empire is ushered in.
Breast Cancer; The Sun Will Rise, by Pamela S. Barron
SELF HELP: Breast cancer survivor Pamela Barron describes life with metastatic breast cancer and continuous chemo treatment for seven years .
War of the Staffs, by Kathryn Tedrick and H.P. Stephenson
FANTASY: A fresh new series for all those who love dragons, wizards, elves, dwarves, and mayhem.
Amazing Adventures of a Nobody, by Leon Logothetis
MEMOIR: A personal tale of travel and adventure in the real world.
Sit Crooked and Speak Straight, by Stephane J. McGrane
BUSINESS: A primer for anyone wanting to conduct buisiness susccessfully in the Arabian Penninsula.
The High-tech Gooseneck Putter, by Samuel DiMatteo & Kristin Johnson
CHILDREN: Meet Sami DeMani, a Canada gander with a legendary golf game. He's on track to win the prestigious Waterfowl Tour — and put his nemesis, the ruthless Pete Swan Lake, in his place once and for all.
The Biracial Bondage, by Joe Bama
SOCIETY: Exploring the struggle of biracial people and couples, as seen through the eyes of both white and black people.
Eradonis: Legend of the Black Rose, by Narisha Rajnandan
FANTASY: First in a series of books featuring sorcery and magic spells.
My Life With an Unsung Hero, by Vesta Sithole
BIOGRAPHY: The post-humus biography of the Reverend Ndabaningi Sithole, a hero of the Zimbabwean struggle for independence.
The Genesis One Code, by Daniel Friedmann
SCIENCE, RELIGION: Calculations demonstrate a clear alignment between the times of key events described in the creation narrative in the Book of Genesis with those derived from scientific theory and observation.
Time Craft, by Mark A. Ely
SCIENCE FICTION: A time-travel story of adventure and scientific imagination.
He will guide you, by Dr. John Diomede
RELIGION: A guide for Christians to your relationship with the Holy Spirit.
Flying Cowboys and Confetti Rain: Dreams of a PBR Bull, by Debbie Felkins Tamez
CHILDREN: An endearing story of a bull and a racoon and their adventures on the road to fame.
Hire a Freelance Report Writer or Editor
People come to us to write their reports, technical papers and white papers, because they know we understand the words to use to convey their meaning clearly:
Words that are formal enough to sound official.
Words that are engaging enough to hold interest.
Words that impress readers.
Words that deliver the information required.

"Write like you are speaking, one on one, with your customers. It does not mean you have to use slang. It does mean you have to get personal AND interactive."

We write using the following principles:
The reader is doing us a favor by reading – don't bore her.
Some people (impulse customers) want you to get to the point. Fast. Or else they are gone.
Others (skeptic customers) want tons and tons of information before buying, especially over the often suspect Internet.
Both types of people are important, and both types of customers need to be nurtured.
The search engines can't read your intent, only the words that are on the page.
Accolades for our writers
Here are a few quick client testimonials. these are just an unprompted sampling. (Read more testimonials here.)

Gabriel Sinki- article author


Dear Debra: The article is excellent as edited. I can't thank you enough for the excellent job you did. The article flows like a symphony.


Maya – first-time novelist


Oh wow, I am crying. It is beautiful. And I am not just saying that because it is my book and all. It flows smoothly. I am pleased. I am confident I will land a contract with that. Now I feel confident. I didn't feel that confidence before with my manuscript. Being a writer, I know that my manuscript didn't have the smoothness I was aiming for. Thanks so much.


Rene – satisfied father-of-the-groom


Well I have to thank you again and the speech was fantastic. As you can imagine the flow was great and must admit I did a pretty good job delivering our speech. I had it pretty well memorized so it did enable me to add in little events which made the audience chuckle. Both Kuno and his fiancée were very delighted and touched by the words.
I'm very happy that I decided to go with a "writer" service and very happy that you wrote the words.
Thank you again and should I need writing expertise in the future you can be assured I will be calling upon your services.

Dan Hughes, safety expert


David I really like this and my writing style was not lost with your editing and assistance. It still reads like I wrote the story.


Marty – memoir writer


I opened your edited file today. Although I have not had the strength to make the changes, they are PERFECT. You have done exactly what I had hoped you would do – you made my story better. I am eager to incorporate your suggestions and send it to my publisher. Thanks so much!