Professional writers and ghostwriters to help you
If you have a story to tell, ideas to share or people to impress, we can bring your message to life. We can start working on your book or blog or speech or screenplay today. Fill in the form, and let us know how we can make it happen for you...
What would you like us to write for you?
Hire ghostwriters – friendly, professional and at your service!
Whether you need to impress people or inform them, move them or action or move them to tears, or simply tell your story, you can count on our top professional writers to bring it to life for you. We take the time to understand exactly what you need and deliver it in an effective and professional manner. Our only goal is to help you achieve your goals, and we will give you our full, personal attention to bring your story to life.
"The article flows like a symphony."
"THANK YOU DAVID !!! Exactly how I wanted it to flow."
"Awesome! Thanks for the rewrite, its perfect."
"Oh wow, I am crying. It is beautiful."
We take care of the writing, so that you can do what you do best.
Here are some of the services that our writers and ghostwriters can do for you:
Our writers have written countless books, articles, screenplays, speeches, web pages and other materials for clients just like you. Here are the reasons our clients want to hire a ghostwriter: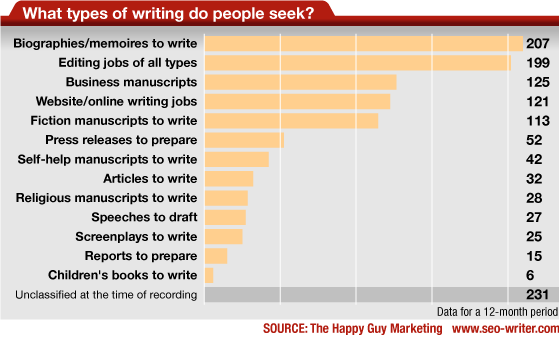 Tap or click to read more about our ghostwriting services.

We ghostwrite all types of books, from fiction to biography, from spiritual to how-to and self-help. We write on health and finance and business and history.

Hire a ghostwriter for book writing

Biographies and memoirs
Business books
Novels and short stories (fantasy, romance, adventure, mystery, science-fiction)
Historical fiction novels
Christian books
Non-fiction novels and true crime stories
Credibility and reputation books
Children's books
How-to books
Books for real estate agents
Books on finance and investing
Self-help books

Hire a writer for business writing

White papers and case studies
Annual reports
Press releases and media backgrounders
Consultant reports
Business books
Brochures and pamphlets
Content marketing
Sales letters
Books for real estate agents
Books on finance and investing

Find writers for blogging

Blog writing and ghostwriting
Blog post promotion
Articles for magazines and websites

Hire an editor for these services

Manuscript editing
Manuscript review
Proofreading services
Plain language editing

Hire a ghostwriter for speechwriting

Wedding speeches
Best man speeches
Corporate speeches
Company presentations
Graduation speeches

Hire a writer for screenplay writing

Hire a translator

Spanish translation
French translation
German translation

Find a writer for other projects

Song lyrics
Academic journal articles
Editorial copy
Poetry
Humor
Technical writing
Interviews and profiles
Finance books, blogs and articles
Newsletters
Ghostwriting anything you need
Why hire a ghostwriter or freelance writer?
Tap or click to read more on why to hire a ghostwriter.

Companies and organizations hire writers for productivity.

Businesses have so much to do, and writing is just another task that needs to be done. Here are some of the documents that businesses outsource most frequently to freelance writers.

Articles and blog posts
Marketing materials
Business correspondence and letters
Press releases and media kits
Credibility and reputation books (for entrepreneurs, real estate agents, consultants, coaches, etc.)
Reports and case studies
Presentations and speaking notes
Training materials

Large companies find outsourcing to be more productive. Small business finds it absolutely essential to hire ghostwriters. This includes coaches, consultants, entrepreneurs and others who need professional quality writing, but don't have skilled writers on staff. It's more productive to outsource, and often saves money in the long run.

Companies hire freelance writers for their expertise and skill.

A lot of business writing is done in-house. But special skills are needed for some types of writing, and a professional writer knows the difference. A company might not have technical writing expertise in house. It might not have speechwriting skills or blog post writing skills on staff. Time to find a ghostwriter for hire!

And costs might not make it productive to bring all writing skills on board. They hire ghostwriters to bring a wide variety of skills to the table at a much lower cost. That is one reason businesses seek out a ghostwriting agency, such as THGM Writers. Hire a writer to save costs.

People find ghostwriters when they can't find the time.

Many people come to us to hire a ghostwriter after trying to write their manuscript on their own. But after several years of being too busy, they realize that they need help to get it done. Writing a manuscript is a lot of work, and it takes a lot of time. Hire a ghostwriter when the project overwhelms you.

You can hire a ghostwriter when you can't get started.

So many people have great ideas for books and screenplays, but they can't figure out how to get started. Creating an outline is not obvious to everybody. Writer's block sometimes interferes. There are times when clients come to us to help them get their project off the ground.

People hire ghostwriters for their expertise and skill.

Not everyone has terrific writing skills. Some people are better with numbers. Others learned English later in life. Sometimes you need a ghostwriter just to sound professional.

Being capable of writing does not make someone a writer. A book manuscript or a screenplay needs more than just correct writing. It requires a number of skills that are honed through constant practice. In fact, we often get requests from authors who write their own manuscript, but realize that it needs work to bring it up to publishing quality.

Authors and companies hire editors and writers to clean up their work.

Many people find it most productive to do the writing themselves. After all, they are the experts on their topics, whether it be health or business or finance or relationships or their own fantasy story. Then they ask for help proofreading, editing or re-writing their text. They find writers to improve their own work.

How you can find a writer or ghostwriter for hire?

Want to hire a ghostwriter? We can help you write or edit whatever manuscripts, business materials, speeches, screenplays, blog posts, press releases or articles you need. For a free quote, tap or click the red button to the right.
When you don't have the time, skill or patience, our
professional ghostwriters
can help you, too! When our skilled ghostwriters are finished their work, check out the
self-publishing and book promotion services
we offer.
Samples of books we have written or edited
Here are a few sample books we have permission to reveal...


ASIM: Servant of Two Masters, by D.W. Smith
HISTORICAL FICTION: In 1453 Turkey, Mehmed the Conqueror has just defeated the Byzantine Empire and a new era called the Ottoman Empire is ushered in.
Breast Cancer; The Sun Will Rise, by Pamela S. Barron
SELF HELP: Breast cancer survivor Pamela Barron describes life with metastatic breast cancer and continuous chemo treatment for seven years .
War of the Staffs, by Kathryn Tedrick and H.P. Stephenson
FANTASY: A fresh new series for all those who love dragons, wizards, elves, dwarves, and mayhem.
Amazing Adventures of a Nobody, by Leon Logothetis
MEMOIR: A personal tale of travel and adventure in the real world.
Sit Crooked and Speak Straight, by Stephane J. McGrane
BUSINESS: A primer for anyone wanting to conduct buisiness susccessfully in the Arabian Penninsula.
The High-tech Gooseneck Putter, by Samuel DiMatteo & Kristin Johnson
CHILDREN: Meet Sami DeMani, a Canada gander with a legendary golf game. He's on track to win the prestigious Waterfowl Tour — and put his nemesis, the ruthless Pete Swan Lake, in his place once and for all.
The Biracial Bondage, by Joe Bama
SOCIETY: Exploring the struggle of biracial people and couples, as seen through the eyes of both white and black people.
Eradonis: Legend of the Black Rose, by Narisha Rajnandan
FANTASY: First in a series of books featuring sorcery and magic spells.
My Life With an Unsung Hero, by Vesta Sithole
BIOGRAPHY: The post-humus biography of the Reverend Ndabaningi Sithole, a hero of the Zimbabwean struggle for independence.
The Genesis One Code, by Daniel Friedmann
SCIENCE, RELIGION: Calculations demonstrate a clear alignment between the times of key events described in the creation narrative in the Book of Genesis with those derived from scientific theory and observation.
Time Craft, by Mark A. Ely
SCIENCE FICTION: A time-travel story of adventure and scientific imagination.
He will guide you, by Dr. John Diomede
RELIGION: A guide for Christians to your relationship with the Holy Spirit.
Flying Cowboys and Confetti Rain: Dreams of a PBR Bull, by Debbie Felkins Tamez
CHILDREN: An endearing story of a bull and a racoon and their adventures on the road to fame.