Each social bookmarking website distinguishes itself in some way. OK, so that's not totally true, but most of the good ones do. Brian over at BlogEngage has built on something original to that platform, an optional program called the Blog Engage RSS Subscription Service. The banner ads, like the one below, bill it as an "Adsense Sharing Program".

However, I am not going to review the Adsense aspect of it, but some of the other benefits, for several reasons.
I think there are several much more exciting aspects to the program.
As you know, I am not really one of the monetization folks – best leave that aspect to someone who is, like Justin Germino
I haven't tested the program long enough to have much to comment on the Adsense aspect.
The Blog Engage RSS Subscription Service is optional
Let it be noted that the service is optional. Of the 2000-plus active users of BlogEngage, I would guess that a few dozen have signed up for the service. BlogEngage is one of the best social bookmarking websites, in my opinion, and was just recently promoted to top line at The Bookmarketer .
The service does cost money. It is not expensive, but some bloggers are counting their revenues in the cents-per-week range, and obviously they will be more hesitant to sign up.
And it is only for bloggers. Indeed, BlogEngage is only for blog posts, as the name implies. Got the world's funniest video? Put it in a blog post if you want to see it at BlogEngage. Created a life-saving app? Blog about it first, then submit it at BlogEngage.
Cool benefits of the Blog Engage RSS Subscription Service
Automatic submission. Once you write your blog post, that's when the hard part comes. You have to pull up all your social sharing websites and submit your post. Well, not all – through the RSS service, BlogEngage automatically grabs your post and submits it (under your account, so you are still the submitter).
Extra vote. Do you spend what seems like a ridiculous amount of time cajoling friends to vote for your social submissions and retweet or like or thumbs up your posts so that they get more exposure? Well, at BlogEngage it takes eight votes to "pop" (at which time your posy gets home-page exposure and becomes a DoFollow link) – and the RSS service votes once. When you have voted, that makes two votes already, saving you from wearing down your cajoling muscles.
More links from more domains. All RSS submissions are automatically syndicated to Blog Serp, Top Blogged, RSS Leak, Blogger Ink and Blogger Tag. This means more DoFollow links, as these are automatically published, even if they don't get enough votes on BlogEngage.
Better promotion. BlogEngage also auto-tweets and autoshares on FaceBook all RSS Service submissions, making it easier to garner the votes required to "pop" and also spreading the word about your blog posts.
Contest Sponsorship. This is brand spanking new… " All our Gold membership customers and above will automatically be added into our guest blogging contests as sponsors." That means fame, fortune and links. OK, maybe not fortune, but if fame and links can earn you a little extra money, I though I would slip the fortune in there for you.
And of course, there is the Adsense sharing, which I promised not to address. I won't even mention it. Just forget that you read this line.
Five levels of membership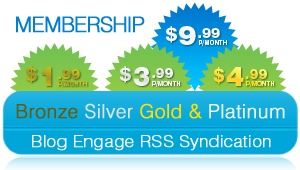 There are five levels of membership to choose from, the lowest costing just $1.99/month. The highest – a premium enterprise service if you run multiple blogs – costs $19.99/month. The gold membership I mentioned earlier costs $4.88/month. If you blog daily or almost daily, it is a worthwhile expense.  You can learn about the differences between the plans directly at the Blog Engage RSS Subscription Service page.
---
This post was featured in the That Girl Is Funny Blog Carnival.